Recently Asia IP's editorial team has launched 2021 China IP Awards designed to recognize and honour the top IP firms and practices, including winners in practice specialties (such as pharma, biotech and life sciences) and by region.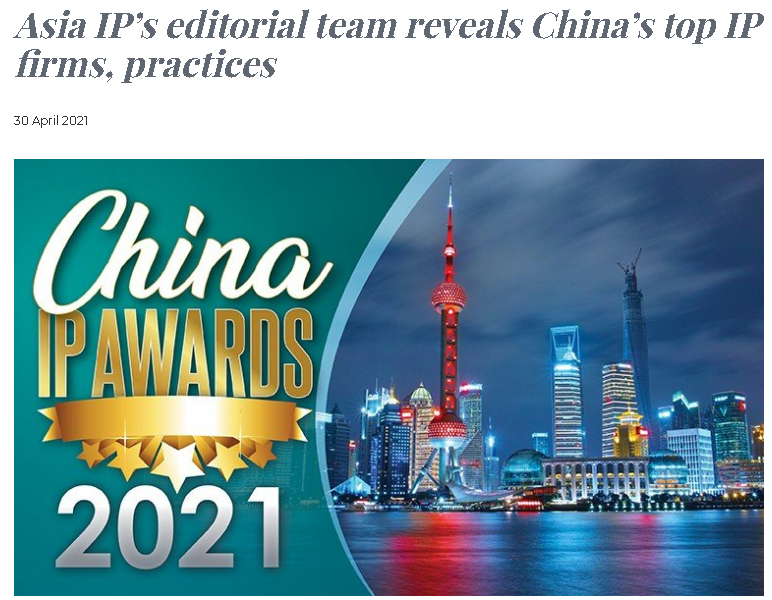 The decisions were made by the Asia IP editorial team, based on feedback and recommendations received from in-house counsel, senior corporate executives and legal professionals from around the region and around the world, as well as submissions from law firms themselves.To determine the winning firms, Asia IP carefully evaluated each firm's most important cases, portfolios and other notable work throughout in the past year, in conjunction with the recommendations and comments they received.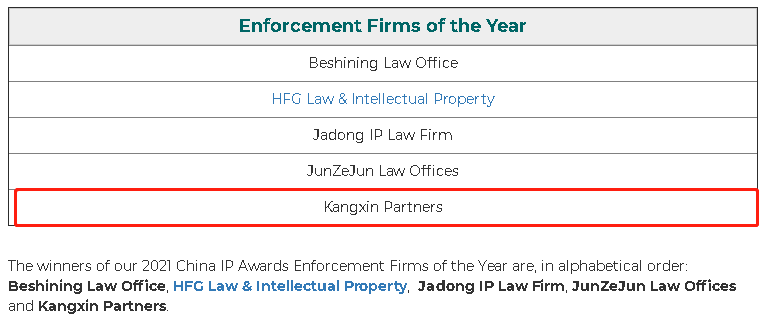 In 2021 China IP Awards,Kangxin has won "Enforcement Firms of the Year" for the professional team and high quality customer service. Asia IP comments Kangxin "Beijing-based Kangxin Partners provides a full-range of intellectual property services. Last year, it helped a client deal with a significant criminal case against infringing factories and their representatives. The firm conducted investigations which resulted in criminal prosecutions against the counterfeiters. It assisted another client through regular monitoring followed by trademark opposition and invalidation actions against the disputed trademark, in which CNIPA only partially supported the manufacturer's claims. The firm then filed an administrative lawsuit agains the CNIPA decision before the Beijing IP Court. Using relevant judicial precedent, the firm argued that the infringing goods had the same function as the designated goods of the cited trademark, which constituted similar goods. The court supported the firm's claims and nullified the disputed trademark on the goods; CNIPA will re-issue its decision. "
Source: https://www.asiaiplaw.com/article/asia-ips-editorial-team-reveals-chinas-top-ip-firms-practices