Kangrui ranked among 2018-19 China Trademark Administrative Litigation Agency TOP 10
Kangrui ranked among 2018-19 China Trademark Administrative Litigation Agency TOP 10
The selection for the 2018-19 China Trademark Administrative Litigation Agency TOP 10 jointly organized by IPHOUSE, IPC and IPRdaily recently came to an end. The results were officially announced on October 14, 2019. . Beijing Kangrui Law Firm (Kangxin's legal department) was successfully ranked amongst the TOP 10 China Trademark Administrative Litigation Agencies for 2018-19.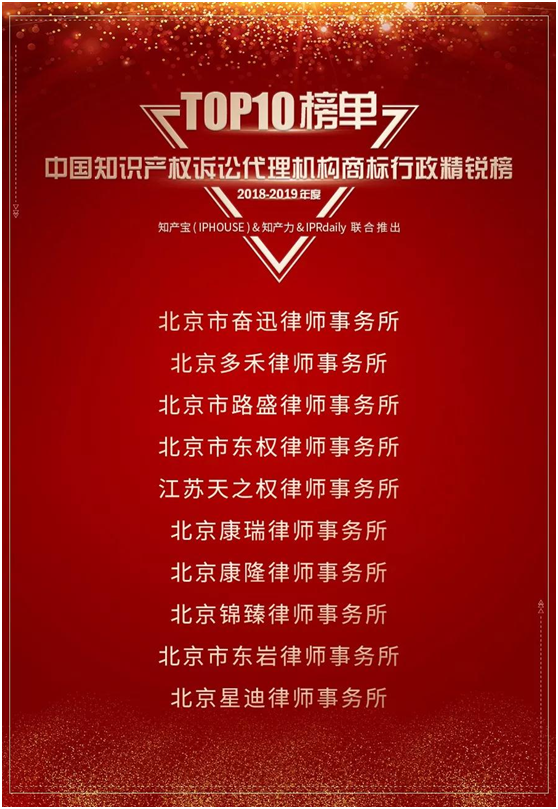 It is reported that the selection for the Top 10 Trademark Administrative litigation agencies for China 2018-19 took into account data based upon almost one million pieces of intellectual property judgment documents organized by IPHOUSEs
In the field of trademark administrative litigation, the number of cases being taken into consideration for each respective firm ranged from 20-100, with classic cases and customer rating being used as the subjective classifier, the results then being calculated and checked thoroughly.
Beijing Kangrui Law Firm is a professional agency specializing in intellectual property legal services under the Kangxin Intellectual Property Alliance. After years of development, it has accumulated rich experience in intellectual property litigation and protection, forming a team including more than 30 intellectual property professionals and senior lawyers, whilst establishing a mature and efficient intellectual property rights protection process system.
Beijing Kangrui Law Firm is able to provide high-quality and efficient intellectual property legal services in various fields such as patents, trademarks, copyrights, domain names, trade secrets and unfair competition. They provide services to wide range of clients, from start-ups to Fortune 500 companies.
Since 2017, Kangrui Law Firm has also been employed as a permanent legal counsel for the United Nations Development Programme (UNDP) to provide intellectual property legal services.