The International Women's Leadership Forum will be held on December 8, 2020. Kangxin's Partner Gloria Wu will speak at the forum to discuss the IP industry's response to COVID-19 and how IP management can be optimized during this volatile time. Gloria will speak on the session with the topic of COVID-19: IP responses and mitigation tactics.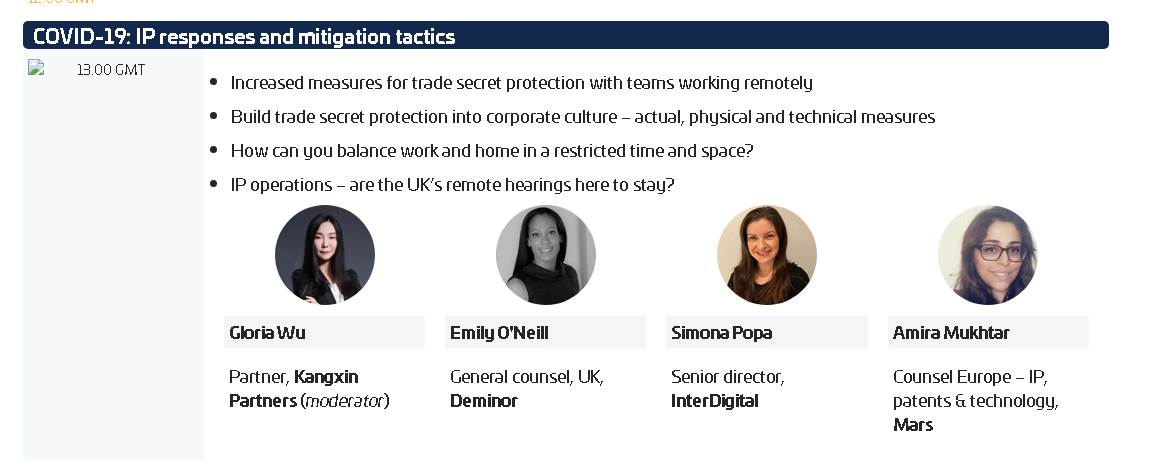 Managing IP's International Women's Leadership will bring the attendees one day of interactive virtual discussions. The discussions will focus on a range of IP developments across industries and jurisdictions, providing an opportunity for women in IP to network and learn from industry thought leaders.

The forum aims to support the advancement of women counsel through a series of professional development opportunities, facilitating the sharing of knowledge, expertise and experience of women in leadership and senior IP roles with those seeking to progress further in their career.
Don't miss out - be part of what will be the largest online meeting of women counsel across Europe to share your thoughts, ideas and hear our advice on how to response to COVID-19 and how to optimize your IP management.